The giant dahlia quilt pattern is a fun and unique quilt pattern that creates an impressive visual effect.
It uses a combination of both traditional and modern quilting techniques to create a stunning design. To make a giant dahlia quilt, you will need fabric, batting, quilting needles, and quilting thread. Begin by cutting out fabric pieces for the petals in a variety of colors.
Then, sew the petals together. Once all of the petals are sewn together, sew the petals to the center of the quilt. Finally, quilt the entire quilt, using a variety of quilting stitches to create the desired effect.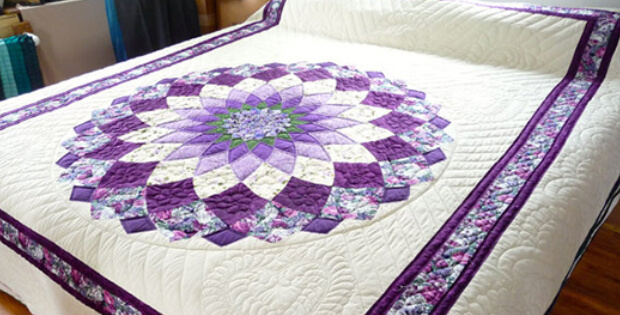 Materials Needed
-2.5 yards of fabric for the quilt top (any fabric with a large-scale print will work)
-2.5 yards of fabric for the quilt backing
-1/4" foot for the sewing machine
-Rotary cutter and cutting mat
-Clear quilting ruler
-Quilting pins
-Sewing machine
-Iron and ironing board
Instructions
Start by cutting a 12.5" x 12.5" square from the fabric for the quilt top. This will be the center of the quilt.
Cut two 7.5" x 12.5" rectangles from the fabric for the quilt top. These will be the side pieces of the quilt.
Cut four 6" x 12.5" rectangles from the fabric for the quilt top. These will be the corner pieces of the quilt.
Sew the side pieces to the center square, right sides together, using a ¼" seam allowance.
Sew the corner pieces to the sides, right sides