Hello everyone! How nice to meet you here. I hope you had a good time this weekend. Always good to take some time to rest, disconnect from everything and come back full of energy. Another week starting and we're here together to learn a lot of beautiful things. Shall we start the week quilting? The Heart Applique Quilt is very pretty, very colorful and has no secrets to make.
A very simple pattern that everyone can make, regardless of how familiar you are with the quilt technique. I received many messages from people who want to start quilting this year, it is one of the goals. This model is for you too. Stay here with us to learn more about this pattern. Patchwork quilt production can already be considered a tradition in many places.
After all, this art has been taught for many years, generation to generation. The beauty of the pieces is one of the reasons these quilts are so popular. The fabric patchwork quilt is cozy, beautiful, and often unique. Well, with creativity it is possible to make unique pieces for a decoration. Also, the idea of reuse is amazing. There are several models mixing compositions and techniques, using fabrics that could be thrown away.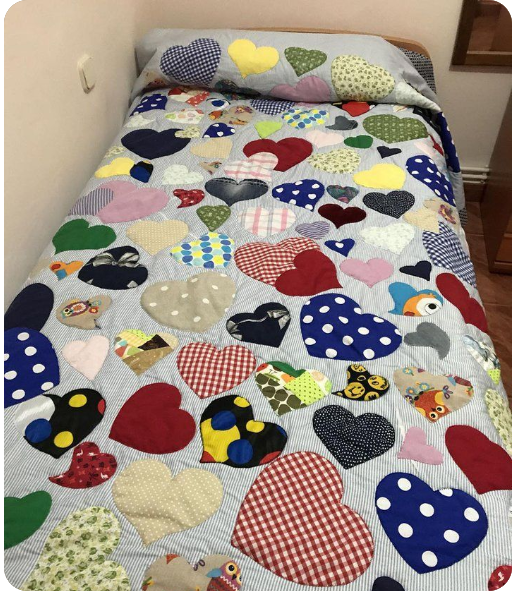 Anyway, patchwork crafts is a true art. Idealize your quilt, think about the designs, size, colors, etc. The patchwork chosen should be in harmony with your idea. Finally, make any adjustments you deem necessary and your patchwork quilt is ready. To make the patchwork quilt you can use different sizes and thicknesses of fabrics in the same piece. Here, working with appliqués, you can also play this game.
Make a lace heart, one with a furry fabric, a denim heart. Use your creativity and take the opportunity to rock the creations. If you already have a little more practice, how about making heart pillows to accompany the decor? It looks incredible. You can make the quilt in many sizes, check what serves better for what you need. Check out the heart applique quilt idea at Artesanato Artesão. We hope you guys fall in love with this cute idea, let us know in the comments. Let's quilt!