Hi love! How nice to meet you here. I am happy to know that you feel welcomed and like the ideas we share.
   See also other free patterns here ➡ 📲🧵🧶
When it comes to handicrafts, pattern variety, here is the place where you will find all that and a little more.
Most of the orders we receive from you are baby items. With that in mind, we brought you the Baby Bear Crochet Hoodie. Look what an amazing model, super delicate and the cutest thing you will see today.
And that hood with the little bear ears? It doesn't get any cuter. You must be thinking, a beautiful coat like this must be very difficult to make. That's where you're wrong.
This pattern doesn't require a lot of skills, nor that you know a variety of stitches. If you doubt us, stay here until the end to see how simple it is.
This detail of stripes, different tones that intersperse according to the rounds, is an effect that yarn has.
You don't need different skeins, it's a yarn that makes this mixture and leaves the coat like this.
But as for the colors you already know, choose the ones that you like the most and match what you are going to do.
   See also other free patterns here ➡ 📲🧵🧶
The important thing is not to compromise on the quality of the material. Here we are talking about children's clothing.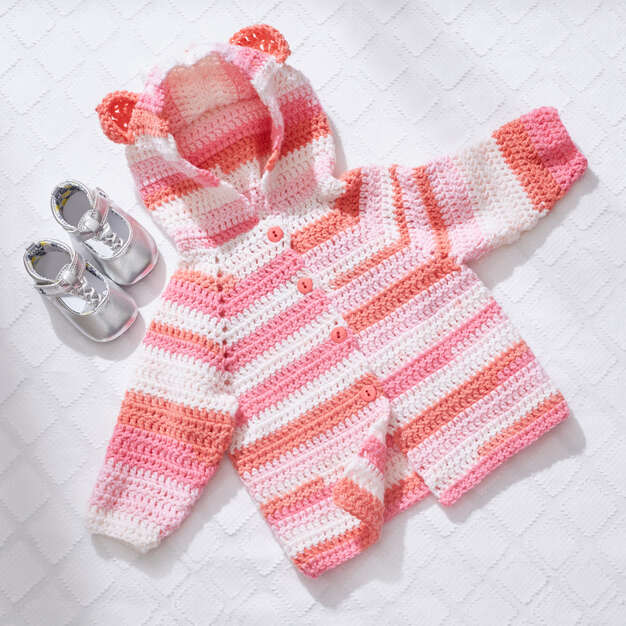 Image / Pattern / Tutorial: Yarnspirations
Little ones tend to be more sensitive, more allergic than we are. That's why hypoallergenic yarns are the most recommended. Nowadays we have a multitude of options with these characteristics. It won't be difficult to find one that you like. And don't worry about the measurements, in the pattern you have three sizes, for 6, 12 and 18 months. Check these measurements before starting. We don't want a coat that's too small.
Yo'll work the sweater in one piece from the neck downwards. Piece is divided at underarms and body is then worked to lower edge. Talking about the sleeves, you'll work them directly into armholes and are worked in rounds down to cuff. Hood is worked directly onto neck edge and is worked upwards. About the ears, you make them separately and sewn to hood. Let's start? Check out the pattern available at Yarnspirations. The baby bear crochet hoodie is a beautiful gift option for someone special, as well as a sale option, to start the year with an extra income. Let's crochet!