Hello everyone! Year has already started busy around here. A few days without crafting and my head is already bubbling with new ideas. And around, how are things? Holiday rhythm or returning to activities? I must confess that I can only go a few days without touching my things. The head already asks for a new pattern. How about we start with a small project like the Double Aster Block Quilt? Projects like this are great for getting back into the rhythm without losing our will or getting discouraged along the way.
And if you're starting out, fulfilling the year's goal of learning a new craft, stay here with us, this pattern is for everyone. Sometimes we get confused, we don't know how or where to use block quilts. For this, we separate some tips that can be very useful and give you new ideas too. How about using them to decorate an environment? No one ever said a quilt has to be big. Maybe one block is all you need to make a charming wall hanging.
Call them hot pads or pot holders, they certainly come in handy in the kitchen, so why not make yours with fun patchwork blocks? Whether you take it easy with a four patch or get fancy with some fluid appliqué. You'll enjoy the splash of color every time you see your pot holder in the kitchen. Swiftly update your decor and put spare blocks to use for making pillows.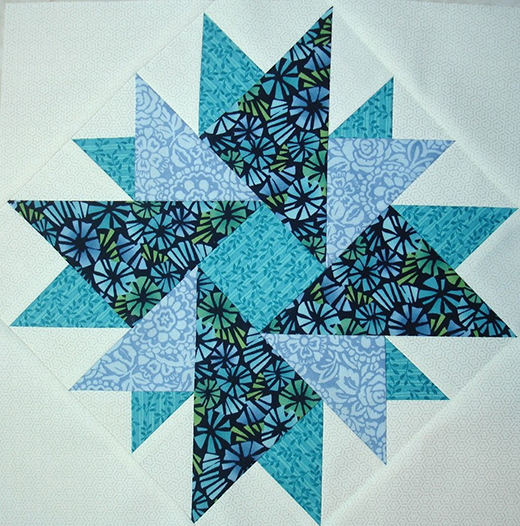 Image / Pattern / Tutorial: Quilters Cache
Keep them simple by adding a quick border, or play with decorative binding, ruffles, or prairie points to spruce things up. Imagine a beautiful quilt block under your plate! Start with a rectangular block to get the right shape, border a large square block on two sides to make a rectangular mat, or combine smaller blocks. Your quilt blocks are pieces of art! Frame one of your beauties as is, or add triangles to each side to set it on point. Just one framed block would be lovely, but the more the merrier!
If you've got multiple blocks looking for a home, stitch them into a row and then display them in a handsome rectangular frame. If you're thinking about making a piece for your home, it's time to choose the colors, the prints that look the most beautiful and match the environment. Come learn the double aster at Quilters Cache. Following the step by step you will have a 12″ block quilt. If you have any doubts, come and talk to us here in the comments. We will be very happy to share what we know with you!