Hello everyone, it's nice to welcome you here at All Free Ck. I am very happy to have your company, to be able to share new patterns and handicrafts that inspire you to always continue making beautiful models.
Whether like a hobby, as a profession, a second source of income, crafts are a comforting practice that helps us at all times, do you feel that too?
Amigurumi Spring Bunny. The next celebration coming up is Easter. It's a very special day and here at home I usually leave everything decorated. I'm always inspired and excited to welcome people and have a great time together. And why not take advantage of everything we create in these moments as well? Today we are going to learn a very friendly bunny that will brighten up your decor.
  See also the free Amigurumi Winged Unicorn pattern
Spring bunny is inspired by spring, blooming flowers, bunnies and Easter eggs. All of these sweet things are put together in one design. It's a very simple pattern to make because the shape of the body is different. It has an oval shape and much of its charm is due to the details we add. It's the little ears, the little tail, the flowers that make all the difference.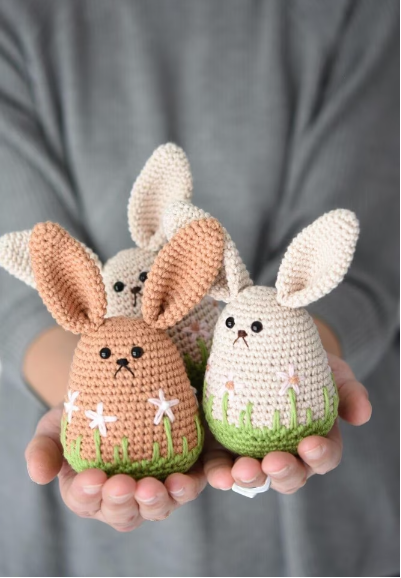 Amigurumi Spring Bunny // Love Crafts
The amigurumi spring bunny looks beautiful to compose the table. Leave it well prepared for meal times. Here you won't need many materials either.
As it is a small pattern, you will need less yarn. Just keep the quality, choose good materials to enhance your work.
  See also the free Amigurumi Winged Unicorn pattern
Wassup did you like it? Themed templates always sell very well around celebrations. Take the opportunity a few weeks before to do it and start promoting it, if that is your purpose.
You can make it in different colors, as in the pictures, it will make everything even more charming. Shall we crochet?