The art of sewing has been a creative and utilitarian form of expression for centuries.
Over time, sewing evolved from a practical necessity into an artistic and therapeutic activity.
One of the most sustainable and rewarding practices in sewing is creating projects from fabric scraps.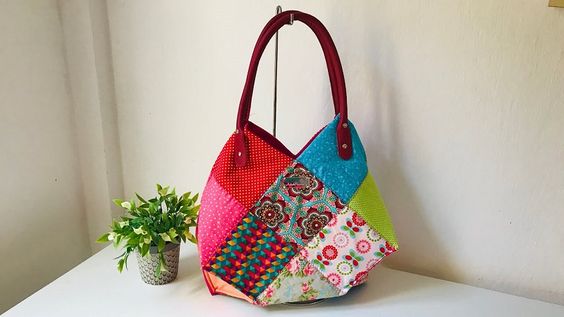 In this article, we'll explore the art of making a charming patchwork bag, with a free pattern that will allow even beginners to explore their creativity and sewing skills.
 The Beauty of Patchwork
Fabric scraps are small pieces of material left over from other larger sewing projects.
They come in a variety of colors, patterns, and textures, making them an ideal choice for creative projects.
The beauty of patchwork lies in the diversity of possibilities they offer. Each flap has its own history and potential, waiting to be transformed into something new and functional.
By creating a patchwork bag, you not only reduce fabric waste, but also breathe new life into these seemingly insignificant pieces.
Combining different scraps can result in unique and interesting patterns, creating a piece that is truly yours.
 Preparing the Materials
Before you start sewing your patchwork bag, it's important to prepare the necessary materials.
You will need a variety of fabric scraps in different colors and patterns, sewing thread, a needle, scissors, pins, and a sewing machine (optional, but recommended for efficiency).
An important tip is to wash and iron the scraps before starting.
This will ensure they are clean and free of shrinkage before being incorporated into the project.
Also, prepare a spacious work surface where you can arrange the scraps to visualize the combination of colors and patterns.
 Patchwork Bag Pattern – Step by Step
Here is a simple pattern for a patchwork bag. Feel free to adjust the measurements to suit your preferences.
Bag Measurements (approximate):
Front and back of bag: 30 cm x 40 cm
Handles: 50 cm x 10 cm (2 pieces)
Inner lining: 30 cm x 40 cm (optional if you want a lining)
Inner pocket: 20 cm x 20 cm (optional, for organization)
Steps:
Choice of Patchwork: Select a variety of patchwork that blends together and reflects your personal aesthetic. Mix colors and patterns to create an interesting look.
Fabric Cutting: Cut the scraps according to the specified measurements. Remember to add about 1cm seam allowance on all sides.
Front and Back Assembly: Arrange the scraps to create the front and back of the bag. Use pins to hold them in place before sewing.
Sewing: Sew the scraps together one at a time using a sewing machine or hand sewing. Be sure to align the edges correctly and maintain a straight, even seam.
Handles: Fold the strap fabric strips in half, right side in, and sew along the long edge. Then turn the handles to the right side, press them with an iron and attach them to the top of the bag.
Lining and Inner Pocket: If desired, cut and sew an inner lining to the bag following the same steps as for the outside.
Add an inside pocket for added organization by sewing it to the inside of the lining before assembling the lining to the bag.
Final Assembly: Place the liner inside the outside of the bag, right sides facing each other. Pin the top edges and sew around, leaving an opening to turn the bag right side out. After turning the bag, sew the opening by hand or machine.
Finishing: Press the bag with an iron to ensure well-defined seams. Your handles will be attached to the top of the bag, ready to use.
 Exploring Creativity
One of the biggest advantages of creating a patchwork bag is the opportunity to explore your creativity.
You can customize every detail, from patchwork selection to sewing patterns. Mix and match different fabrics to create an eclectic look, or choose a specific color palette for a more cohesive look.
In addition, you can add decorative elements such as embroidery, appliqués or even beads to give your patchwork bag a unique touch.
Every little detail will contribute to the uniqueness of the final piece.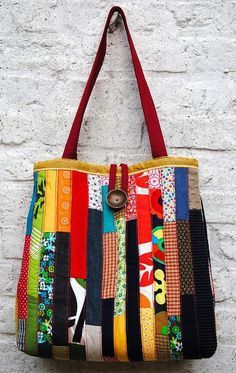 The art of sewing is a form of self-expression and a means of creating useful and beautiful objects.
The patchwork bag is a project that combines utility with creativity, allowing you to make the most of scraps of fabric that might otherwise go to waste.
With this free pattern and some basic sewing tips, you can create a patchwork bag en